Operations of House Foods Group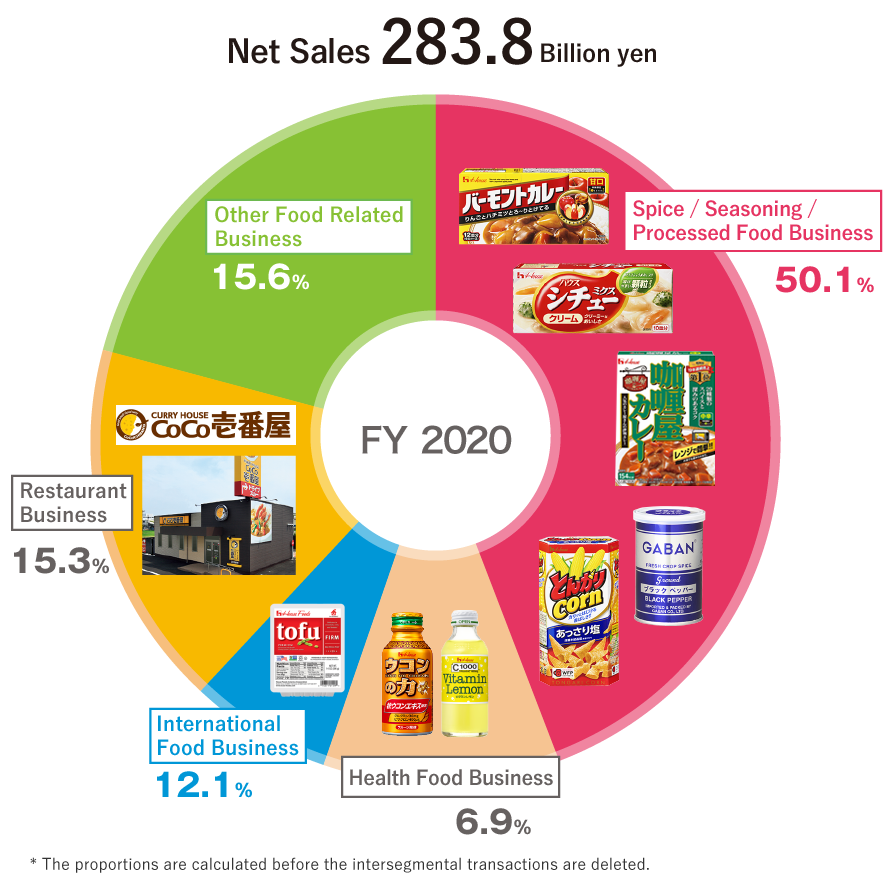 Proportions of the segments in our consolidated sales
50.1

%
Spice / Seasoning / Processed Food Business

Manufacture and sales of food service products and household products such as curry roux, stew roux, retort pouched curry, spice products and starch noodles in Japan
Major affiliates

House Foods Corporation
GABAN Co., Ltd.
Malony Co., Ltd.
6.9

%
Health Food Business

Manufacture, sales and mail-order sales of health food and functional drinks including Ukon No Chikara, C1000 and Ichinichibun No Vitamin, among others, in Japan
Major affiliates

House Wellness Foods Corporation
12.1

%
International Food Business

The business focuses on the manufacture and sales of tofu and other soybean-related products, curry products and functional food mainly in the United States, China and Southeast Asia.
Major affiliates

House Foods America CORPORATION
House Foods CHINA Inc.
House Osotspa Foods Co., Ltd.
15.3

%
Restaurant Business

Both domestically and internationally, the business operates Curry House CoCo Ichibanya, a chain of restaurants that offers Japanese-style curry and rice.
Major affiliates

ICHIBANYA Co., Ltd.
15.6

%
Other Food Related Business

The business contributes to the strengthening of synergy within the Group through manufacture and sales of prepared food, food analysis and import sales of food ingredients, for example.
Major affiliates

Delica Chef Corporation
Vox Trading Co., Ltd.
House Logistics Service Corporation